How can you stand ahead with millions of sellers selling similar products in online stores? Well, this can only be possible if there is any uniqueness in your online store.
Your online Shopify store is the face of your business which talks to your customers on your behalf. So don't lose any chance to make the customer journey easier, shorter, and more enjoyable.
Shopify is the best platform for small to medium businesses. According to Statista, Shopify generated around 4.6 billion U.S dollars in 2021, and its total revenue is increasing by over four billion since 2015. You must be thinking about how I can optimize my Shopify conversion rate to increase the revenue.
link-https://giphy.com/gifs/hyperrpg-twitch-hyper-rpg-bwHw1B7YgLBB7DdyHa
There are various proven methods through which you can easily convert leads into new customers and retain the old ones. This blog will cover all such strategies. By implementing them, you can take your Shopify store to its deserving heights.
Without further delay let's dive deep into those actionable tips to understand how to improve conversion rate Shopify.
Top 10 Proven Steps to Improve Shopify Conversion Rate
1. Effective CTA Placement
CTA (Call To Action) is the next step the shop owner wants the customer to take to process towards making sales. A compelling CTA motivates customers to take that action and complete the purchase resulting in a good conversion rate Shopify.
Most common CTAs are- Buy Now, Click Here, More Details, Continue to Buy, Add to Cart, etc. Don't add too much CTA, but you must add one or two above the fold. This CTA placement immediately catches visitors' attention, which is always good for conversions. Visitors want to grab information quickly; hence if you put CTA above the fold, it will get easily noticed.
For example, look at the home page of a website designed by the CGCOLOURS team. This CTA will get a maximum click as it is quickly noticed as soon as one lands on this page.
2. Testimonials, Reviews, and Awards
According to Search Engine Land, almost 88% of consumers buy products after reading online reviews and ratings. There are 100 + options available to customers to buy any product. So how they differentiate them, the answer is based on high ratings, reviews, and testimonials. Hence don't forget to add reviews, testimonials, and badges to your homepage under the banner. It will help build trust in your product and increase credibility.
Check out the review by a client on the CGCOLORS website.
3. Using FOMO Marketing
FOMO (Fear Of Missing Out) is one of the effective ways to increase Shopify conversion rate. It is a marketing strategy that affects visitors' psychology and motivates them to take fast action.
Basically, FOMO triggers the audience's innate fear of missing out on the opportunity to take action. Such as buying products during a limited sale period, many customers feel that the sale will end, and it's better to buy the product at a discount during the sale.
According to strategy Online, 60% of millennials make reactive purchases because of FOMO. Moreover, more than half of the people using social media suffer from FOMO by looking at the offer and discount ads. Let's see some of the examples of FOMO.
4. Remarketing & Retargeting
Remarketing or automated emails are one of the proven advertising techniques which surely improve your Shopify conversion rate. It is for those people who have once visited your online store. Through these techniques, you can retarget them and encourage them to take some action.
Moreover, remarketing is an excellent way to retarget the abandoned cart users and encourage them smartly to complete the buying by making payments.
There are several platforms and tools to achieve retargeting and remarketing. Using these tools, you can customize ads and promotions as per your customer's needs. Some of the top tools are-
Top Remarketing Tools
5. Leverage Social Media Platform
Today almost everyone is on social media; according to Statista, around 4.26 billion people are currently using social media worldwide. You will also find most of your potential customers online on these platforms. Hence, social media platforms are an excellent medium to update customers about new product launches or ongoing offers.
Buyers have the mentality of buying things from where others are buying. Hence share the reviews of your products or videos from your happy customers. This will help in increasing the trust in your product. To generate leads from social media platforms, try to increase your followers. You can do it by consistently posting great content. Moreover, you can collaborate with Social Media influencers to grow a good pool of followers.
6. Cash On Delivery
The checkout process is one crucial step in online marketing. According to research, 2 out of 5 customers abandoned the cart for some reason. But one of the main reasons is trust in online payment. According to Business Insider, almost 83% of customers preferred COD (Cash on delivery).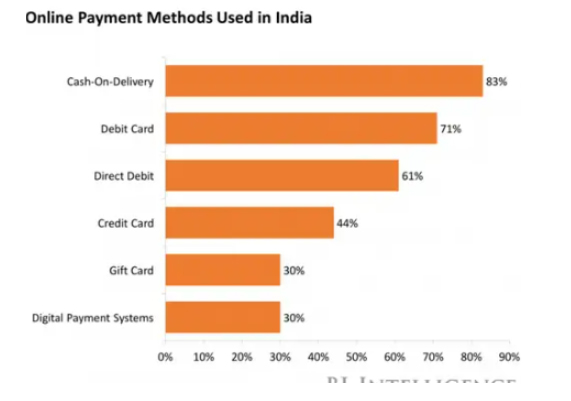 Not everyone is comfortable making online payments due to fear of fraud. Hence if we provide cash on the delivery option, we can increase the Shopify conversion rate. Along with cash on delivery options, try to make the whole checkout process easily navigated, clean, and fast without any stress.
7. Offer Return Policy to Build the Trust
Many times, shoppers refrain from buying any product because they feel that if it is not as per their expectations, their money will get wasted. Adding a return policy in your online shop will push customers to complete the purchase process or make the payment.
According to Invesp, almost 67% of customers first check the return policy before making a purchase. Along with COD, delight your customers with return policies and convert all the one-time shoppers into regular customers. Use "Shopify return policy generator" to provide easy returns to customers.
8. Multiple Payment Option
Providing multiple payment flexibility to shoppers is one of the best methods to optimize the checkout processes. You can easily increase Shopify conversion rate by adding all payment methods consumers favour.
According to research, if you add the top three primarily used payment options, you can boost sales by up to 70%. Adding appropriate payment methods helps customers complete their purchases and prevent cart abandonment.
Learn about different payment methods on Shopify and how to set up them.
9. Create Paid Campaign Landing Page
Running a paid campaign is one of the fastest and most effective ways to generate potential leads. But most people do it wrong and end up with limited results.
So if you want to leverage the ad campaign to increase Shopify conversion rate fully, then don't try to run the paid campaigns using your product pages. Instead, pick your high-earning products and create paid campaign landing pages for those products.
Learn about the latest PPC trends to achieve successful campaigns.
The landing pages are those web pages that are created with a motive to encourage the potential lead to take the next step in the sales funnel. The next step can be-
Newsletter subscription

Buying a product

Filling a form to get the free sample

Adding product to wishlist

Sharing Email addresses to get free shipping.
You can design various landing pages for your Shopify store, including Product Page, Discount Page, Coming Soon Page, and so on. Consult Shopify website development experts to understand which type of landing page will be best to generate more sales.
10. Content is the King of Marketing
Do you know thousands of products similar to yours are available in the market? So how can you tell customers that your product is best for them out of others?
Answer is – Through "Content".
Content is the biggest weapon to convey your business deeds to potential customers. Use this weapon wisely and write a copy that matches your business and its tone. There are multiple ways to communicate with your customers like, website content, posting on social media platforms, running ad campaigns. Moreover, use newsletters to remain in the eyes of your regular shoppers by giving them discounts and updating them with your new products and any success you have achieved.
What is a good conversion rate on Shopify ?
Conversion rate is one of the crucial parameters that can break or make your online store. But this conversion rate can vary depending on various factors like industry, location, etc.
According to Statista research, the conversion rate in the US is higher for desktops compared to mobile and tablets. This is because typing from a small mobile screen is quite troublesome compared to a desktop, as lead forms are not easy to fill in or fill in payment details. Have a look at the below graph for better clarity.
Similarly, conversion rates differ from industry to industry.
Although the conversion rate is different from different perspectives, the average conversion rate for a Shopify eCommerce store is 1 to 2 percent. If you follow all the 10 strategies mentioned in this blog, you may notice an increase in Shopify conversion rate by up to 3 to 4 percent.
Word From Author
If you want to stand ahead of your competitors and take your business to its deserving heights, then you must employ all the strategies covered in this blog. It will result in a streamlined, well-designed online Shopify store that will convert leads into customers faster.
These top 10 methods to optimize Shopify conversion rate uses customer psychology to trigger their behaviour and motivate them at various stages of the purchasing journey. As a result, customers end up buying your products.
If you need any help in implementing any of these strategies, feel free to reach out to the
CGCOLORS
web designing team.