Android App Development
Creating state-of-the-art Android mobile software powering your brand ahead.
Secure information protocols
In-depth app development process
Expert Android Developers
Responsive & Feature Rich Apps
Customer Centric Process
GET IN TOUCH
SEND US A MESSAGE
Android App Development Services
CGColors is the leading Android app developer in New York. Our Android developers combine expertise with skills and dedication to prepare feature rich apps. Ever since Android came into picture in 2008, we have been at the leading edge of Android development.
Being a global leader, Android mobile operating system now surpasses its competition significantly. Our professional team is meeting the demand for Android development with experience and expertise.
Whether you want an app to sell your products on smartphone or manage your enterprise better, we help you achieve your goals just the way you want. You can better reach your target customers and achieve higher conversion rates with a simple touch.
Recent Application
Single No Babies
The purpose of this app is to create a unique environment where individuals can simply LIVE. This is not a dating app, it is more of a community of singles men and women with no babies.
Technologies:
iPhone SDK
Android SDK
XCode
Objective
Graphic design
XMPP server for online chatting
Android & iOS app icon
View App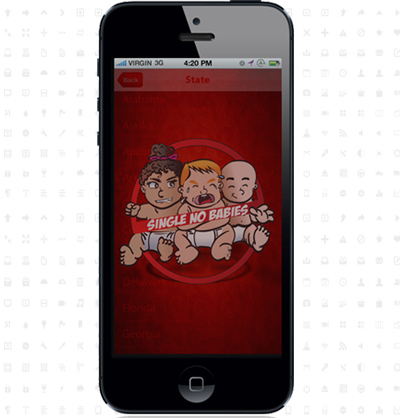 CGColors – Hire Best Android Developers
Android app development requires talent. Our team of experienced app developers have tools, resources and talent to create world-class apps. We make use of Media APIs, 3D graphics and OpenGL plus many more to deliver challenging projects.
100% Quality Committed
No matter the industry or project complexity, we are committed to quality. Our designers and developers code with highest standards and follow benchmarks in Android development industry.
Awesome UI and UX
Apps are all about fluidity and user experience. We deliver apps that are easy to use, have awesome UI and give a satisfying experience to users. And this means that your brand meets the customer expectations.
Native & Hybrid Apps
Creating beautiful apps with rich features is our forte. These native apps run great on Android devices and are ready to be deployed with other platforms as well. So, go hybrid and native at the same time.
Want Android Apps? Get FREE Quote Today
No Clichés – get a FREE quote Today when you discuss your project with our developers. Get thorough analysis of the project along with industry leading suggestions right from Android experts. We never finish until you are satisfied.
Custom Android Apps Unique to Your Brand
Tailor Made Apps

Nothing offers customization like Android. We understand your business and deliver the exact same solutions that meet your requirements. Each project is hand coded with thorough research and analysis.
Powerful & Scalable

Android devices are getting powerful. Our apps make use of all the features that come with Android's latest version. Scalable nature means that no matter small or enterprise, we deliver quality.
App Maintenance

Get full support and maintenance for your app. Android apps never go obsolete provided they get right maintenance servicing. Let our developers help you maintain your old app with code corrections.
Advanced App Tools

Whether it is custom coding or 3rd party apps, our developers are ready to deliver true value with advanced tools and resources. Our apps come with latest technologies and support upcoming hardware.
Application Migration

Want your iPhone app to migrate onto Android? Consult with our developers today to know how you can increase your presence in two of the most popular mobile operating systems on the planet.
App Upgrade

Already have an app? Move to the latest Android version along with new features. We customize old apps with new features and integrate them as per the latest version of the Android platform.
Android App