Top brands like Amazon, eBay as well as many other leading eCommerce websites are just some of the stiff competitors that small businesses have to contend with. The effect of organic rankings seem to be diminishing every day, and even if your website is lucky enough to appear on the first page and as the first result to be encountered when your particular keyword is searched, your website will appear under the fold (after four adverts). That doesn't mean that all hope for getting some sales is lost, but the issue is that following conventional SEO practices may not generate remarkable outcomes. By mixing a combination of paid campaigns as well as local SMO/SEO, this will go a long way in tipping the odds in your favor.
1. Target Your Local Audience
Big brands don't usually carry out micro marketing since they believe it is not going to be beneficial to them financially. What they tend to do is to target the entire country since they have the financial backing to make it happen. Since these big brands don't target states or cities, you can utilize these loopholes by making use of keywords that will target states and towns. Keywords such as Party Shoes New York, Shoes New York, etc.
Tip – You can make use of the name of your location in your MetaTitle as well as your Description. You can also use your area in your ALT tags and website URLs.
2. Take Advantage of Local Trends
Using the Google Trend Tool, you can find out more about what is trending in your vicinity and then take advantage of the information you gather in your marketing campaign. You can display big banners with images of your product on the homepage of your website.
Taking a look at the example illustrated above, one can readily observe that casual shoes are trending in New York as against sports shoes over the last thirty days. But when the football seasons kicks off, the trend will change. This means you need to be observant to take note of the change in trends and channel your marketing campaigns accordingly. The top eCommerce brands also follow this strategy, but they develop it with country or world trends. This is because their websites are set up to serve people all over the world, and not targeted specifically to residents.
3. Get benefit of Google Local Ranking
Another strategy you can implement is to add your business to Google My Business. This will help you to enjoy high local SEO ranking. You can even go a step further by adding your business to the listing websites that are currently leading the pack such as Yellow Page, Yelp, eLocal, etc. Doing these, will help your site to get ranked without delay.
4. Target Long Tail/Low Competition Keywords
If you want to beat large eCommerce websites in ranking, then you need to carry out keyword research. About 16% to 20% of queries that get asked every day have never been asked before. . This implies that there are numerous opportunities for your website to get ranked on the first page on popular search engines. Your focus should be on long tail keywords, not on the popular ones.
The following example will showcase the difference between long –term keywords and short-term keywords…
Short Term Keyword – LCD TV Buy online
Long Term keyword – 32 inch Samsung LCD TV Buy Online
I will be sharing four practical techniques that you can use to get hold of long-term keywords for your eCommerce website.
A). Find Long Tail Keyword from Google Auto complete
Take a look at the following examples…
Here is a tool to find Google auto-complete search results – ubersuggest.org
B). Find Long Tail/Low Competition keywords from Google Keyword Planner
The Google Keyword Planner has made a feature which can search out keywords with low competition available for internet users. You can locate this feature on the left-hand side filter.
C). Find Long Tail Keywords from Big eCommerce website's auto completion
You can find more relevant keywords from auto-complete of eBay, Amazon as well as other high-trafficked eCommerce websites. keywordtool.io/amazon tool will help you to find auto-complete keywords from Amazon.

Example of ebay auto-complete –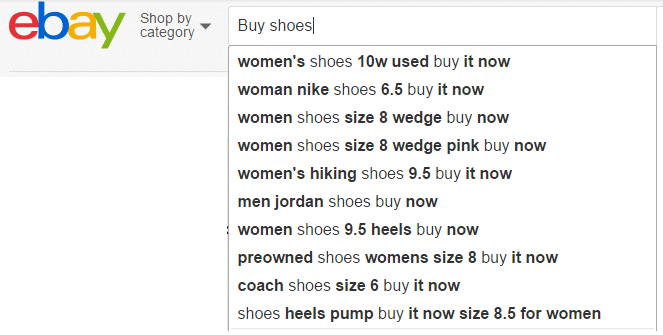 D). Find Long Tail Keywords from other popular keyword tools
keyworddiscovery.com tool is a pretty good choice if you are looking for long tail keywords.
Check Word Steam Example –
Lots of keyword tools as well as software used for finding long tail keywords abound on the internet… Here is an awesome list of Keyword Tools
Bonus – Search for top searched keywords with lower competition and add them to the content on your website.
5. On Page SEO is a Master Stroke
Another important thing that leading eCommerce brands don't usually do is to utilize on-page SEO on their sites. They ignored the effective use of heading tags, subheading, posting of press releases, news, body content, etc. So as a small business owner, you can bank on this, to compete favorably with them by making use of keyword-rich content, complete with headings and subheadings that are loaded with your keywords. Since these big eCommerce brands don't post content, except images of their products, you can also make the most of this loophole by carrying out on-page SEO on each of your web pages.
The following are just some of the SEO factors you should consider using for effective on-page SEO:
Meta Tags
Heading Tags (H1-H6, Bold, Italic)
Breadcrumbs
Body Content
Schema Tags (Product, Reviews)
XML Sitemap, HTML Sitemap
Robots.txt
Canonicalization
Duplicate or Invalid Page Fix
Custom 404 page
Image Optimization (Alt Tag, Compress Size, Relevant Image Name)
Page Load Time Optimization etc.
Blog Posting
Mobile Friendly (Responsive)
6. Categorize Your Products Smartly
As a rule, backlinks (off-page SEO) are created for category pages since product pages are too many, and no one creates links that will rank product pages. Therefore, categorize your products shrewdly.Let's see the example-
General Category – Shoes, Jacket etc.
Smart Category – Black Shoes, Leather Jacket etc.
7. Create Pages on Filters
One trick that some big brands in the eCommerce industry don't utilize is to make their URLs SEO-friendly. One way to increase the number of your pages is to create those pages on filters and then search out filter ideas using the filters of the big brands. Let's examine the best way to go about this…
Color Filter Pages
domain.com/black-shose/
www.domain.com/orange-shoes/
Size Filter Pages
www.domain.com/shoes-size-11/
www.domain.com/shoes-size-12/
Brand Filter Pages
www.domain.com/nike-shoes/
www.domain.com/adidas-shoes/
Price Filter Pages
www.domain.com/below-500-shoes/
www.domain.com/below-400-shoes/
You can make it in another way…
www.domain.com/shoes/
www.domain.com/shoes/Nike/
www.domain.com/shoes/Nike/Black/
www.domain.com/shoes/Nike/Black/
www.domain.com/sheos/Nike/Black/Below-500/
Note – Make sure you are not duplicating products & content and take care of page load time during applying filter on static URL.Don't waste too much time and money to remove duplicate pages. Google filters duplicate pages by itself and not give any penalty. Here is a John Muller Video
8. Choose Specific product (Niche Appeal)
Big brands generally sell all type of products. You can stand out of the pack by choosing a particular product and build your SEO around that product. Doing so will not only stand you out of the crowd, but your efforts at doing great SEO will be rewarding and uncomplicated.
9. Take SEO Advantage from Domain
When creating a domain name for your ecommerce website, remember to include the name of that product therein. This will give you lots of SEO benefits and subsequent high ranking. Example – ebags.com (Here Bag is a specific product)
10. Website Speed Helps in SEO
The loading speed on the majority of the leading eCommerce brands out there is barely above average. This is as a result of the numerous products and scripts that are usually loaded on a particular page. Google takes note of the time it takes for any website page to load into consideration when ranking sites. Therefore, you should put more effort into building a site that will utilize speed optimally for your pages to rank successfully. Optimize your website using given top three tools…
Relevant Article of Page Load Time Optimization Tips
11. Don't Forget the Power of CRO
All you need to do to enhance users' experience, decrease bounce rate and increase page views is by ensuring that your conversion rate is optimized. There is almost no website in the world that doesn't face the challenges brought on by CRO. But then, it is possible for every website to increase the capacity to build up conversions and sales. Some important CRO points are given below…
User Flow Optimization
Checkout Page optimization
Sign up page optimization
Sales Funnel Optimization
Give awesome mafia offers, saving offers, discount etc.
Use Popups perfectly (Exit Popups, Scroll Popups, Footer Popups)
Buy Button, Add to Cart Button Optimization
Product Page Optimization
Neat and Clean Product Images with zoom and angle facility (Show all product dimensions in image)
12. Local Branding
Generally, branding creates trust. If you are targeting local audience, then you can do offline and online promotions in your small budget. Some ideas are given below…
Local News Paper Advertisement (offline)
Local Magazines Advertisement (offline)
Local TV Advertisement
Blog Post on Local popular News, Magazine sites and Article Sites (Online)
Banner Promotion on Road and Metros in your Local area (offline)
Social Media Paid Campaign for Local Audience (Online)
PPC Campaign for Local Audience (Online)
This is the fact that Big Brands don't know the best places to advertise (display ads – offline) in your local area more than you so beat the by using your local experience.
Conclusion – There nothing is impossible, you have to find out the opportunity in your eCommerce field by using keyword selection, area selection, product selection, marketing strategy selection. It is true that big brands are waiting out there like hungry sharks, but when you plan well and strategize wisely, you can end up beating the competition to become one of the most successful owners of eCommerce websites. This will in turn, give you more understandings of how it works, and help you broaden your business and services to other cities or nations around you. In case an idea occurs to you when reading this piece, kindly give your feedback or recommendation in the comments section below.